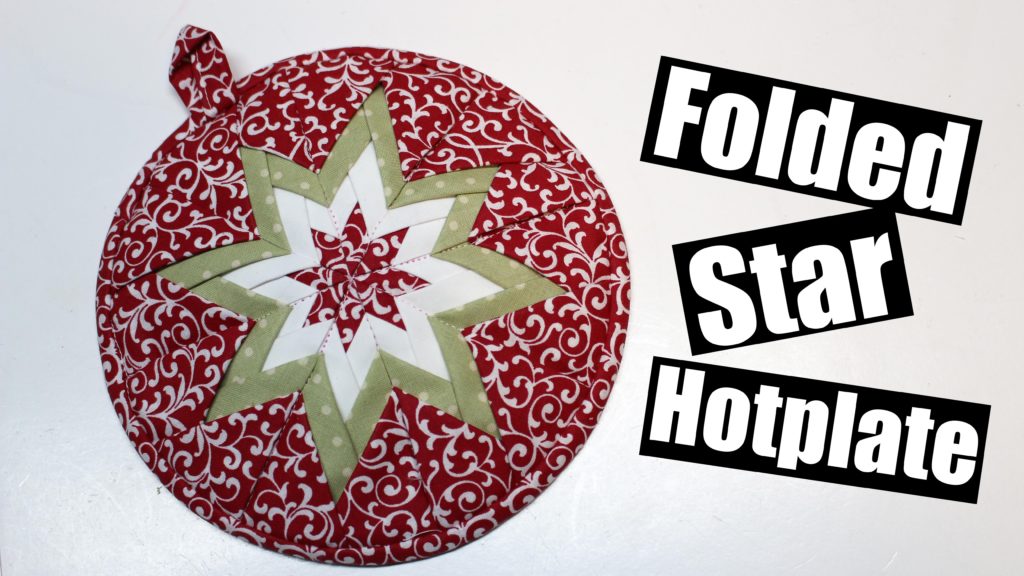 Welcome to the Folded star trivet sewing tutorial, here you will find the measurements, materials , supplies, and video tutorial.
Materials
Cotton fabric
Insulbrite – if your making this into a trivel/hotpad/hotplate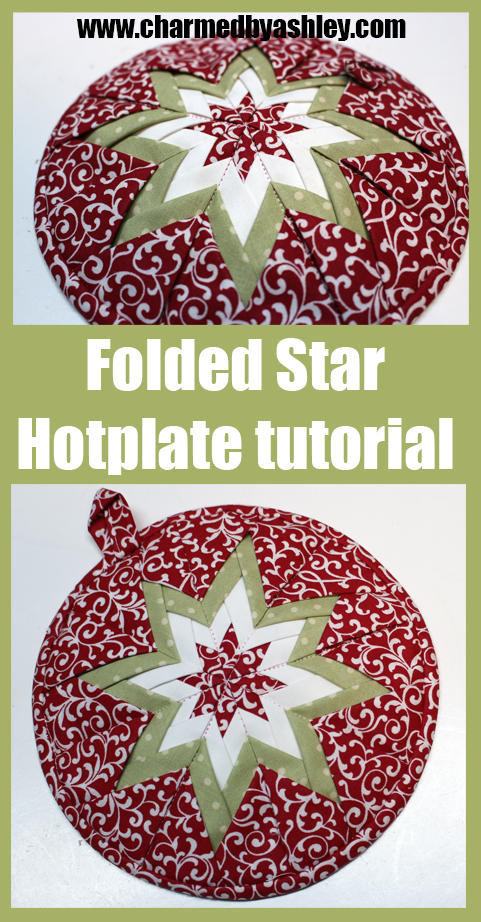 Recommended Tools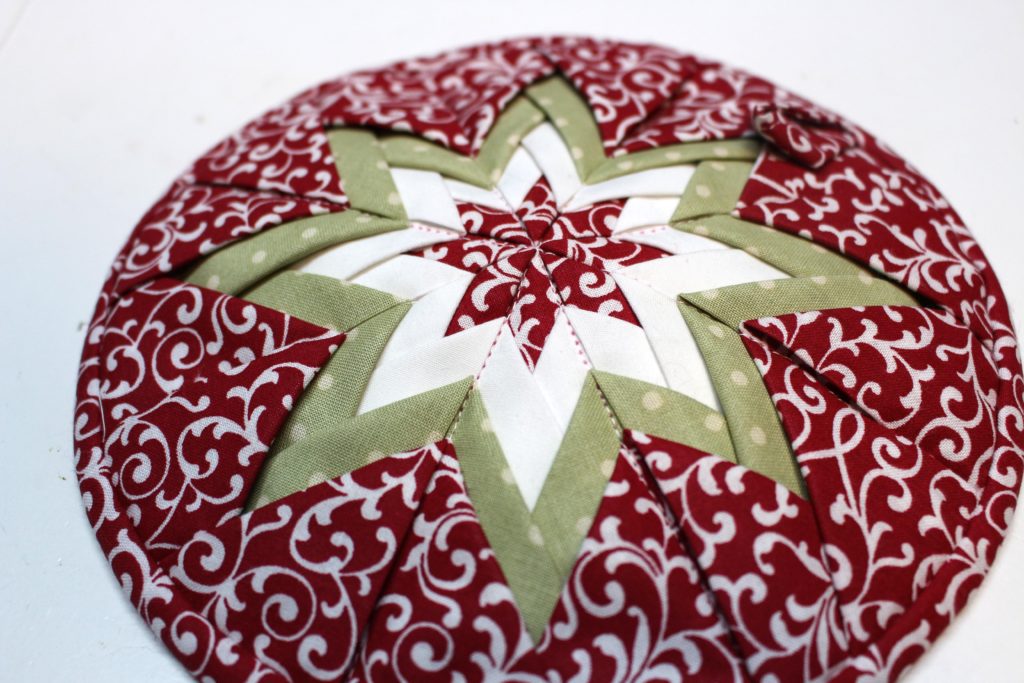 help keep my tutorials free!!
Measurements
Cut 1 Backing fabric – 8″ x 8″
Cut 1 foundation square – 8″ x 8 – does not need to be pretty and will not be seen.
Cut 1 – Insulbrite or fleece lining 8″ x 8″
Cut 5 – 3″ x 3″
Cut 8 – 3.5″ x 3.5″
Cut 8 – 4″ x 4″
Cut 8 – 4.5″ x 4.5″
Bias binding 30″ in length (2″ wide, 1″ double fold bias tape)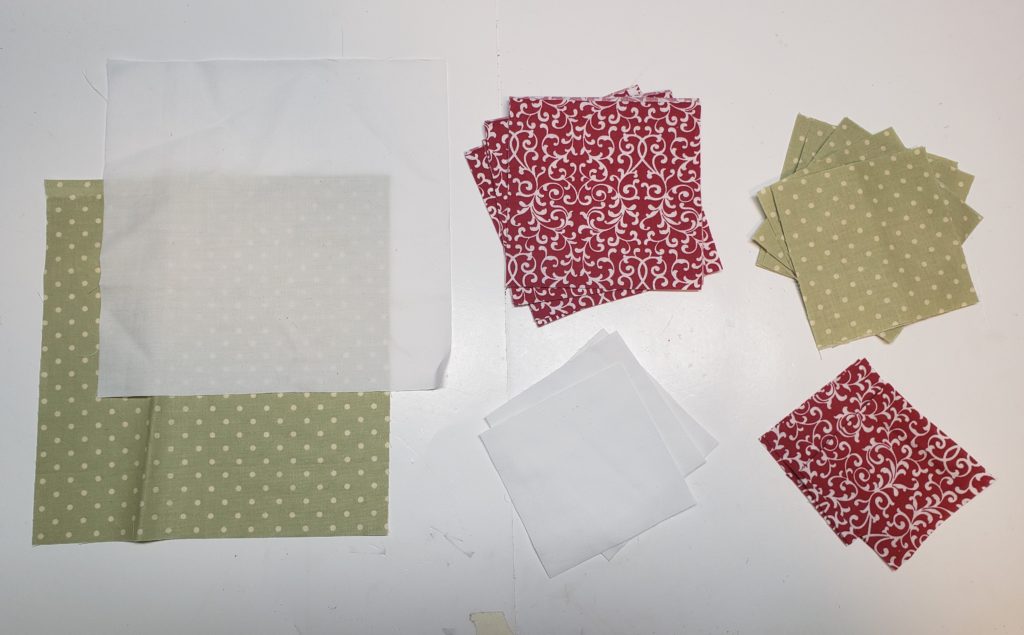 Step 1 – Create your foundation piece. For beginners i recommend making a foundation piece to help guide the placement of your triangles.
take your foundation piece and draw guide lines through the centre on top and side, and then again diagonally on both corners.
from there mark from the centre 1.5″ and 3/4″ 3 times.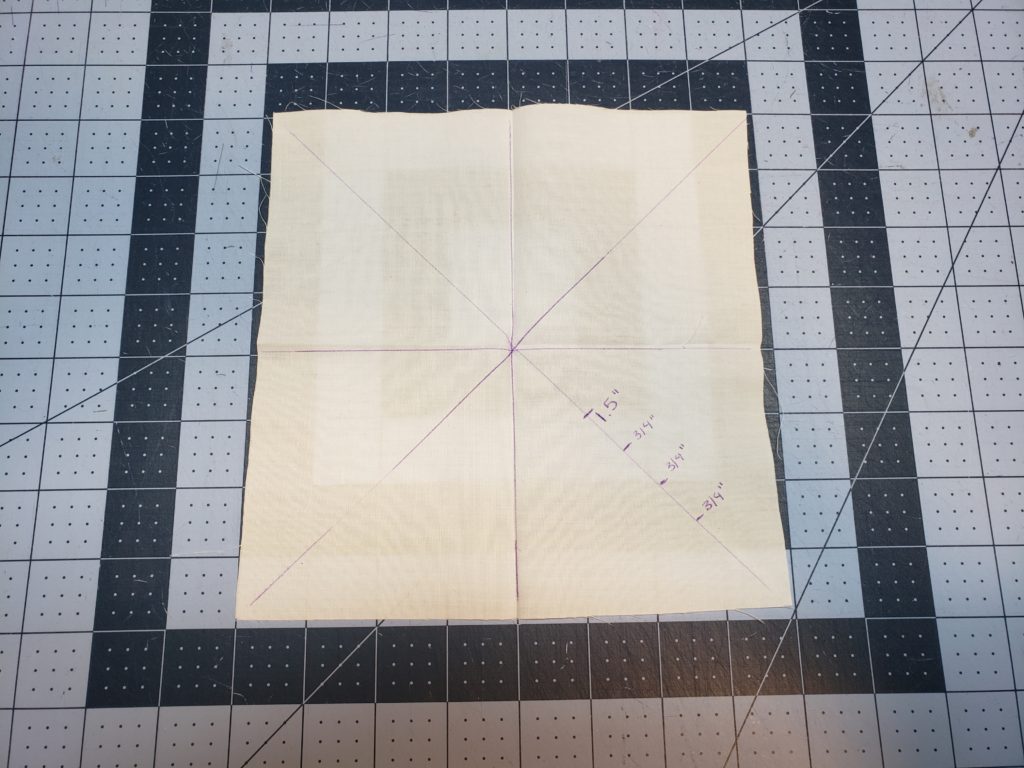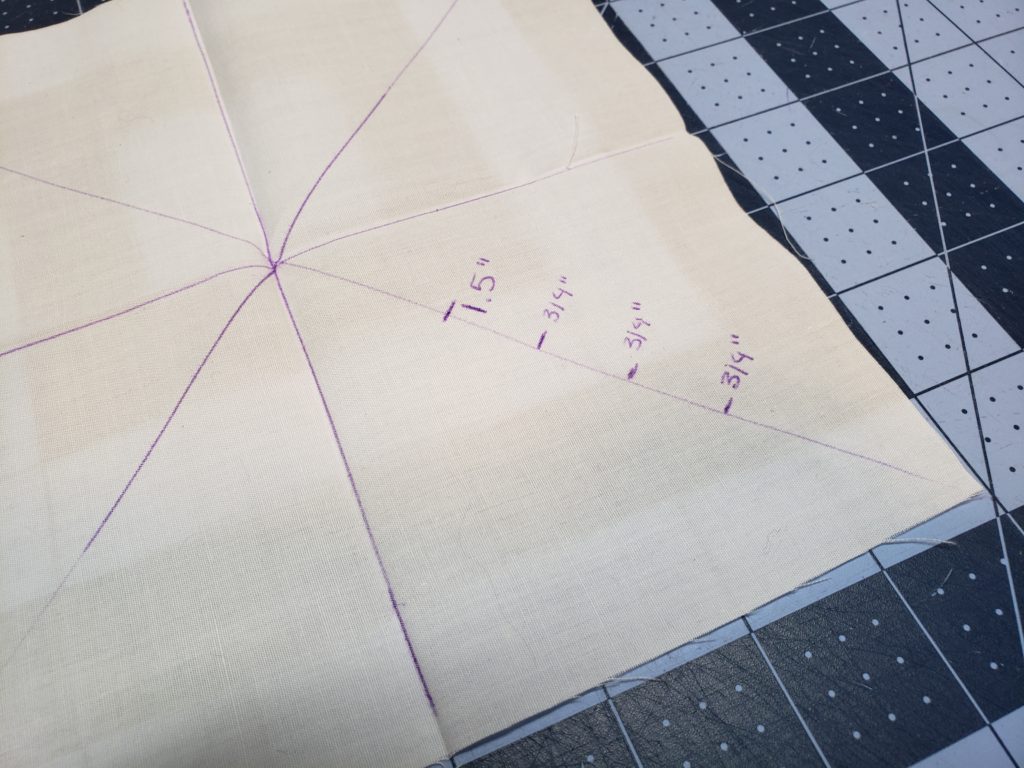 step 2: – create your triangles with your little squares.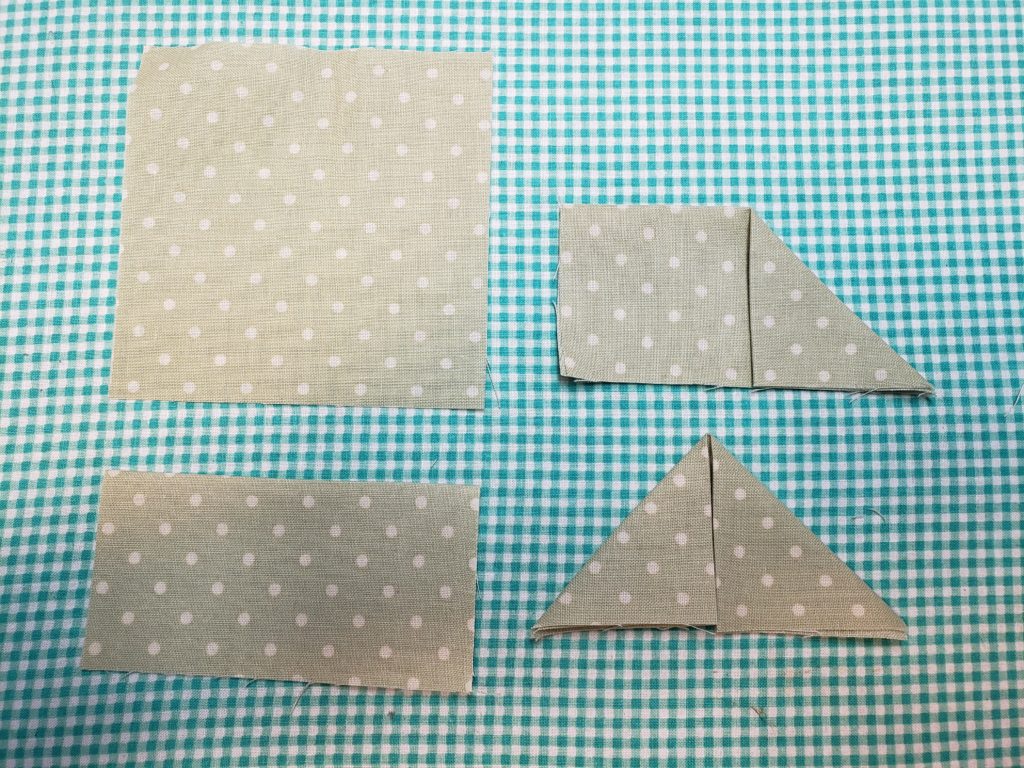 for the smallest square set one aside for a foundation piece.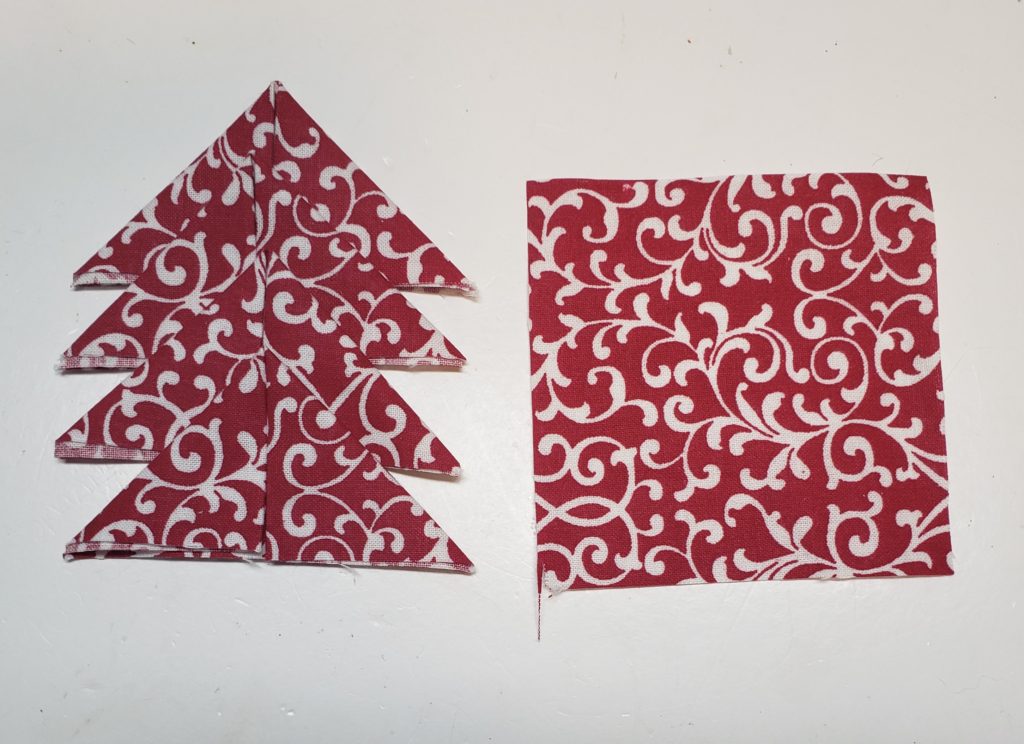 This is how they will look
Baste with alymers glue to help keep your triangles folded.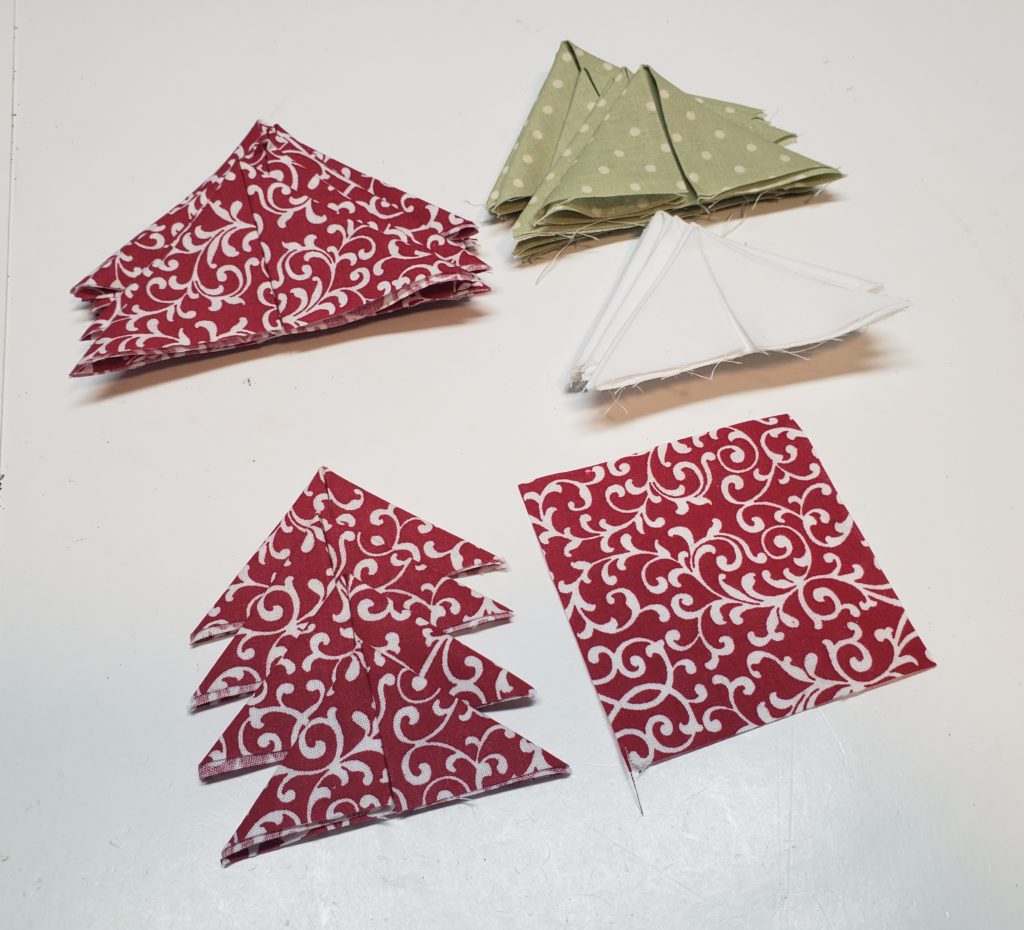 Step 3 – now take the smallest square and place the 4 small triangles ontop so the points are all lined up perfectly, place glue to baste into place if needed.
Sew along the 4 sides with a 1/4″ seam allowance to secure all together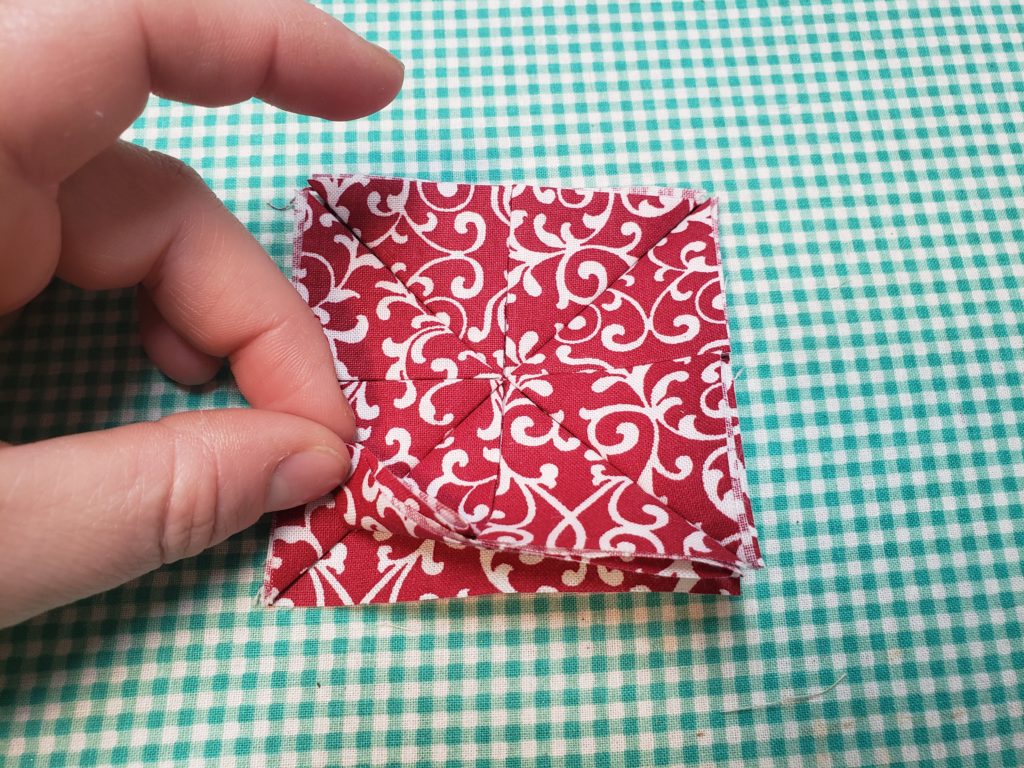 Step 4 – once sewn place the square in the middle of your large foundation square.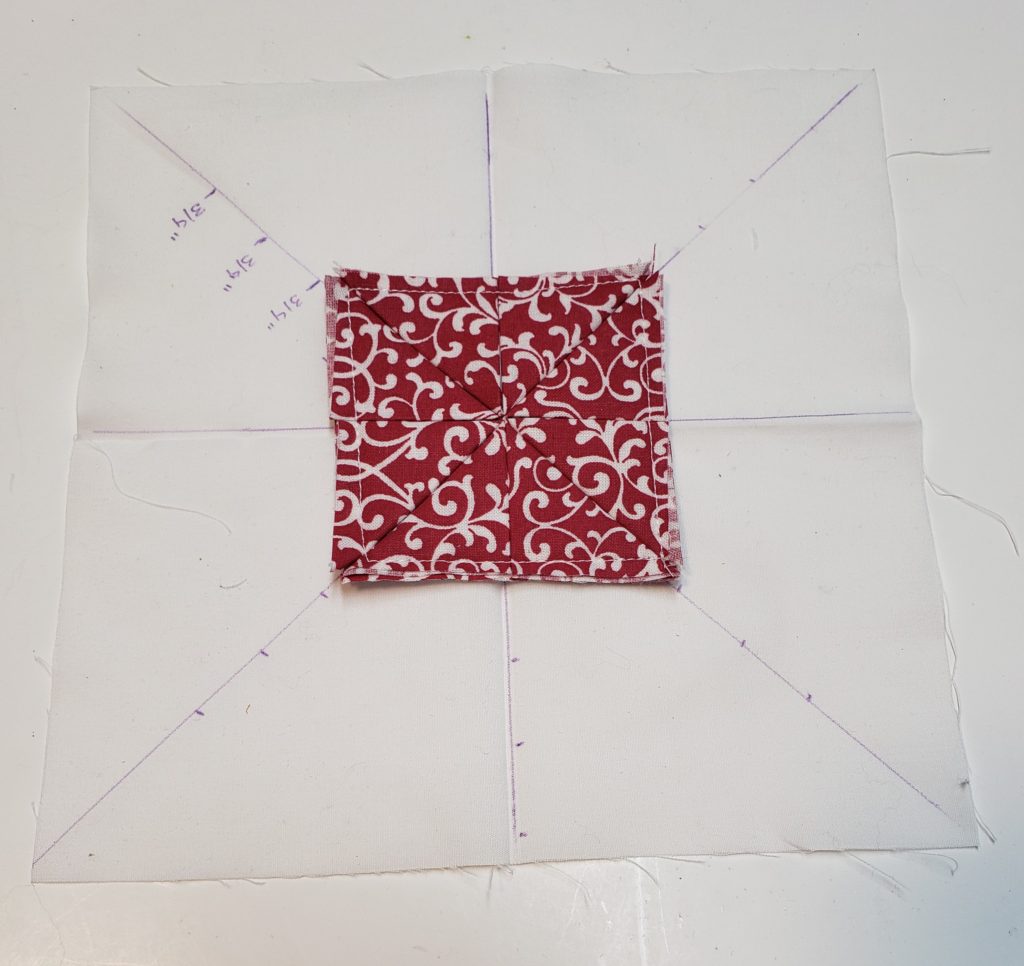 Step 5 – now begin placing your next size triangles, you can place them four at a time, first place them lined up with the previous triangles, centred with the fold and the guide lines.
baste into place by sewing at the bottom of each triangle with a quarter of an inch seam allowance.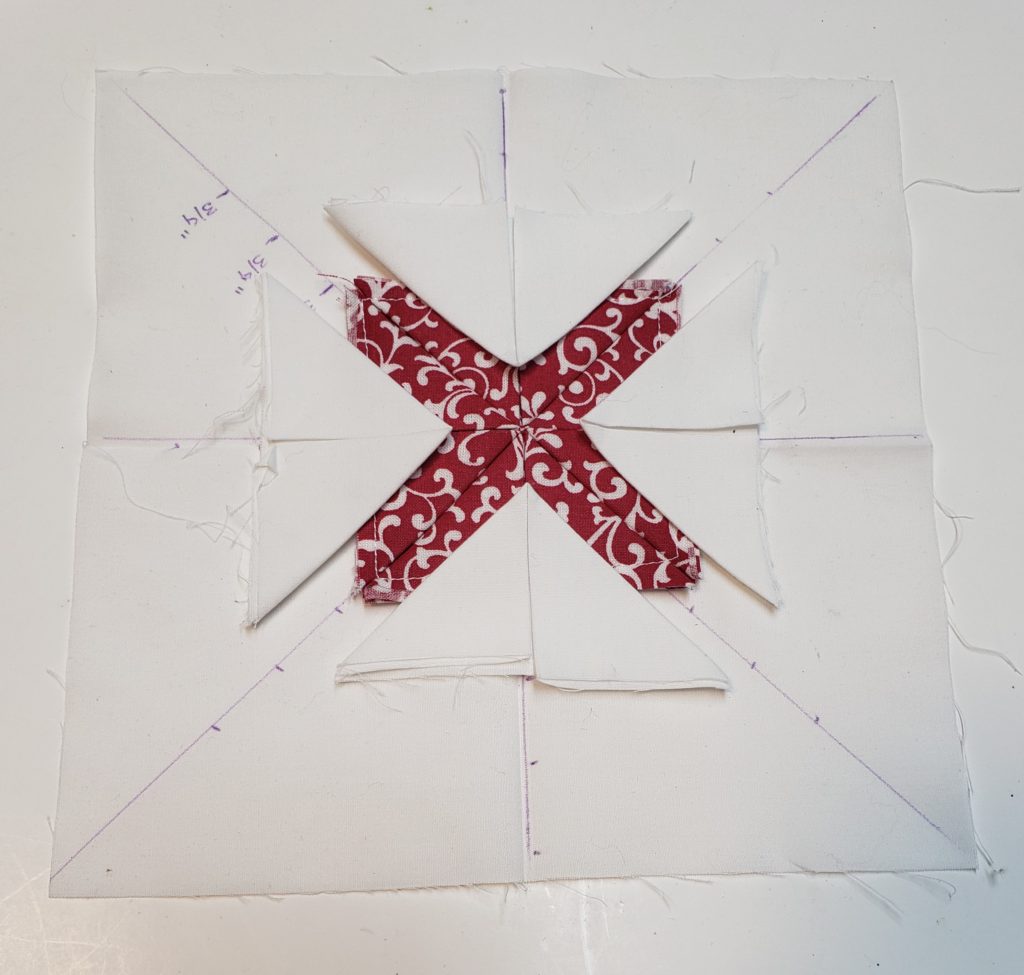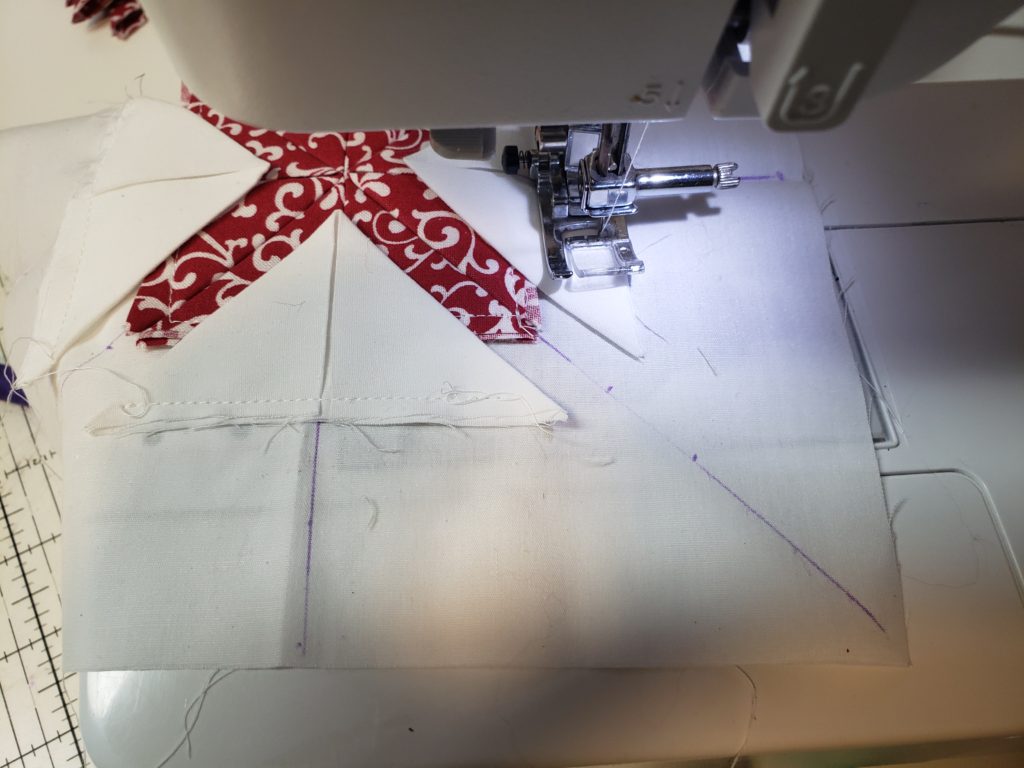 Step 6 – place remaining same size triangles lined up with the diagonal lines, the bottom of the triangle should be lined up with the second marking we made along the line. baste these into place the same way we did the previous triangles.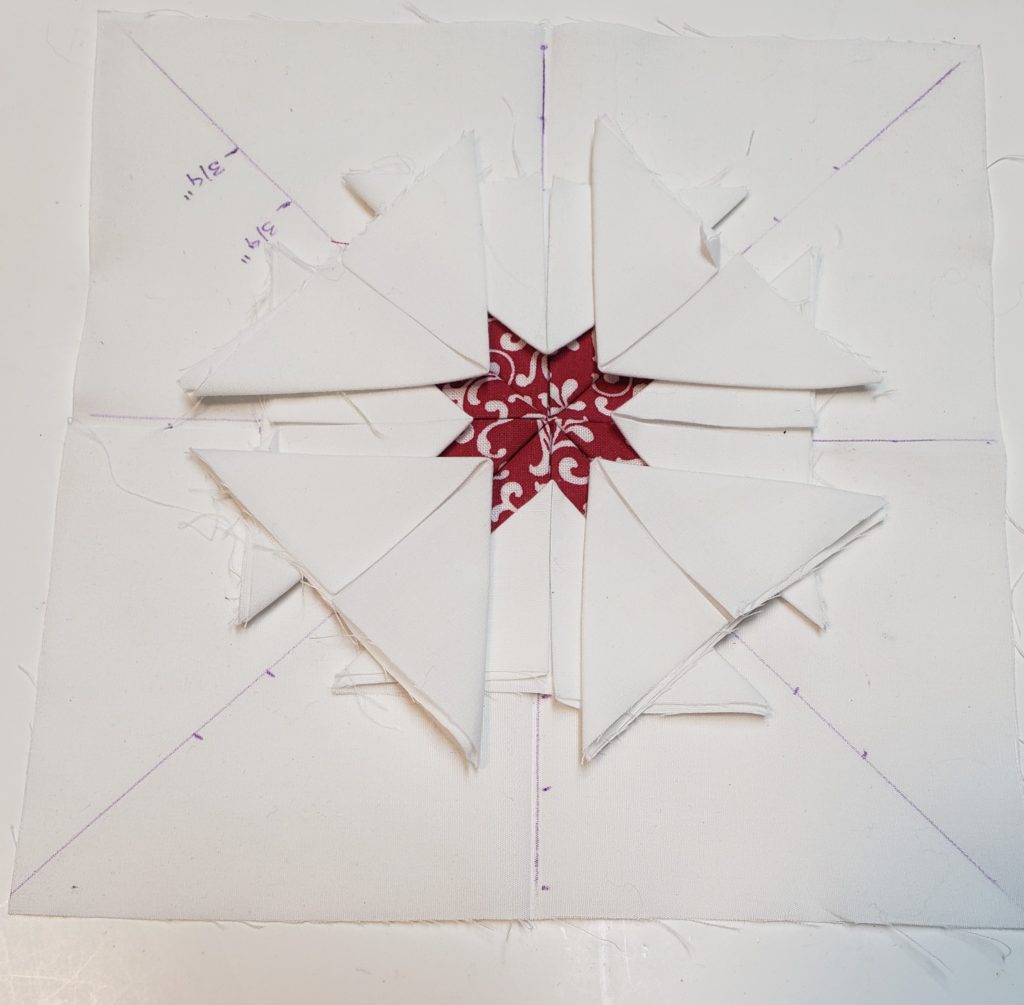 step 7 – begin placing the next size up triangles in the exact same way as before.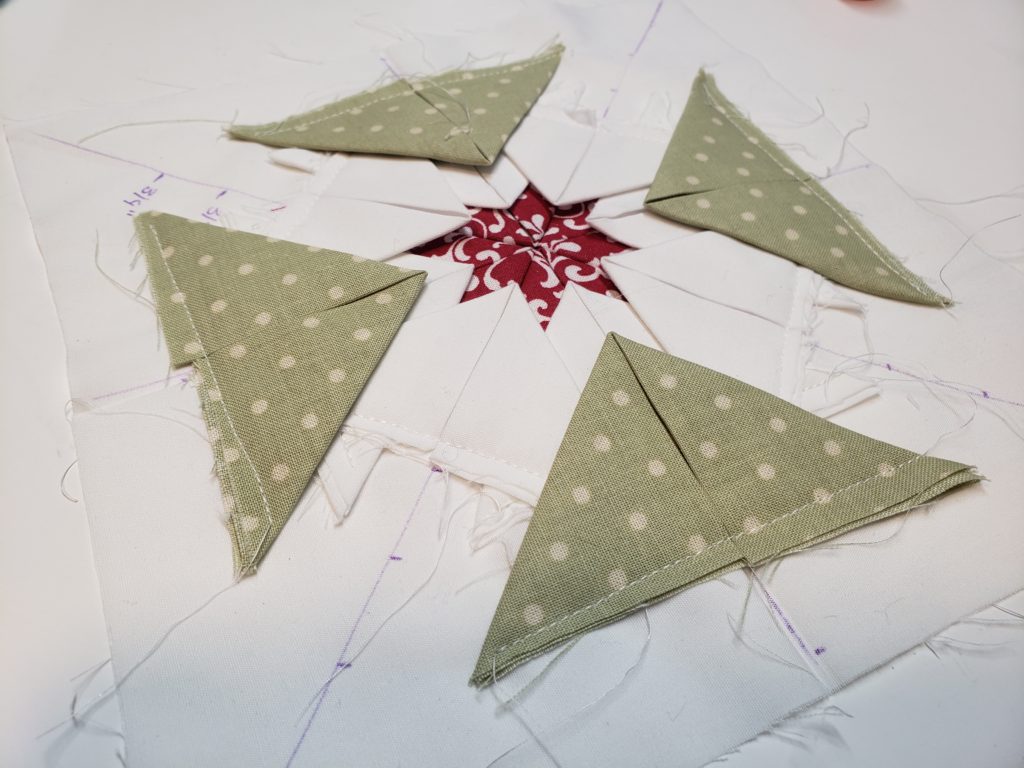 Finish laying the remaining 4 triangles and then continue placing the last 8 triangles in the same way as before.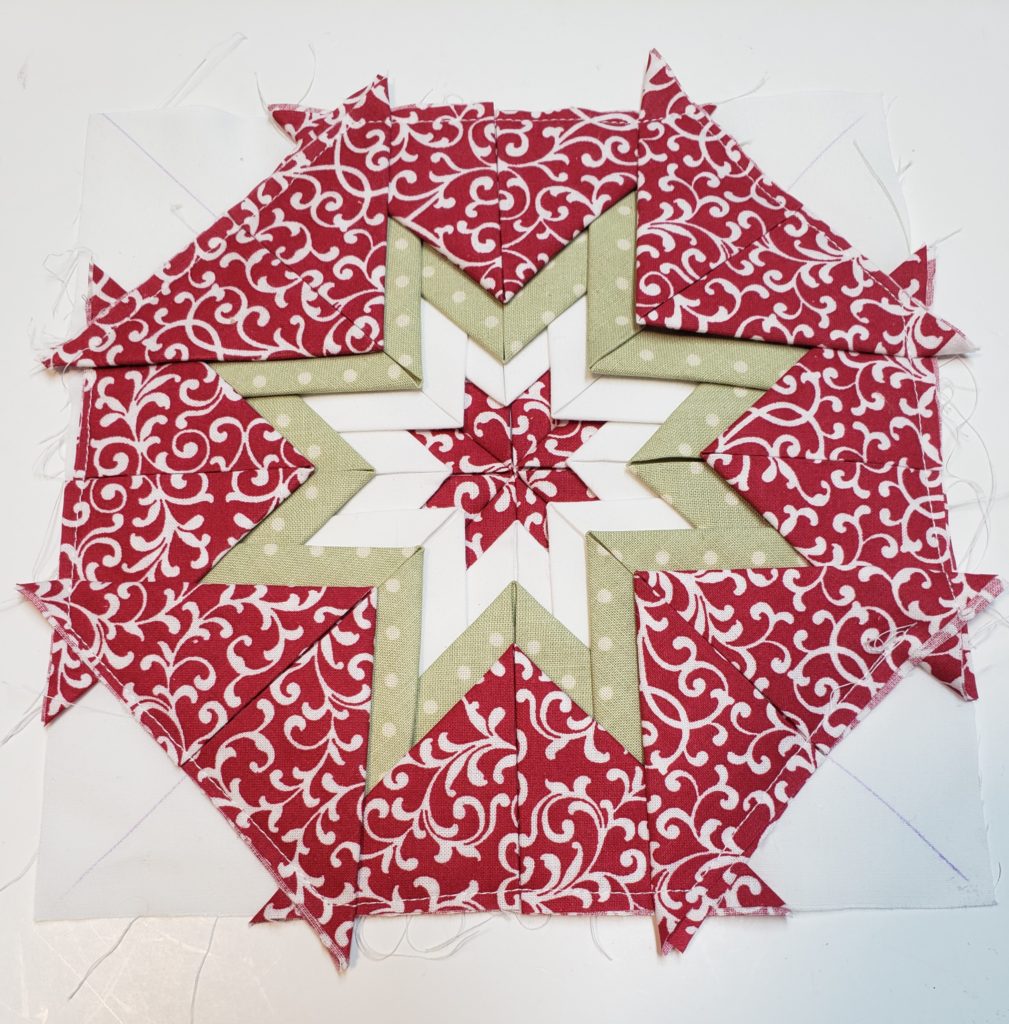 step 8 – create your quilt sandwich with your backing fabric and batting.
for this i will be using the Insul-brite or you can use quilt batting or fleece.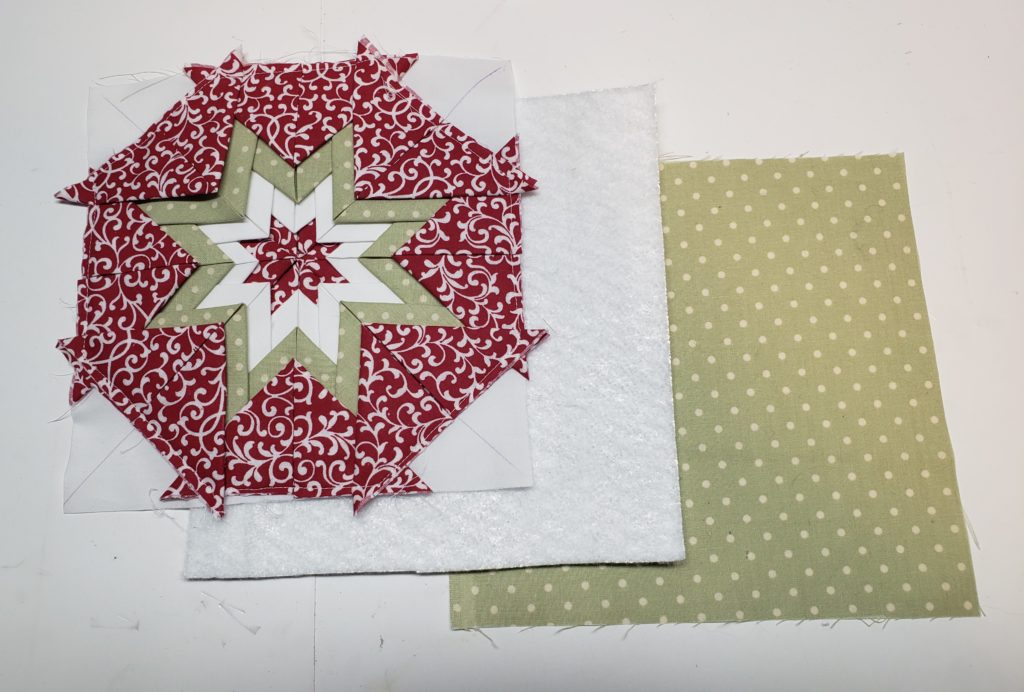 I like to use Easy tack by Krylon to baste the layers together.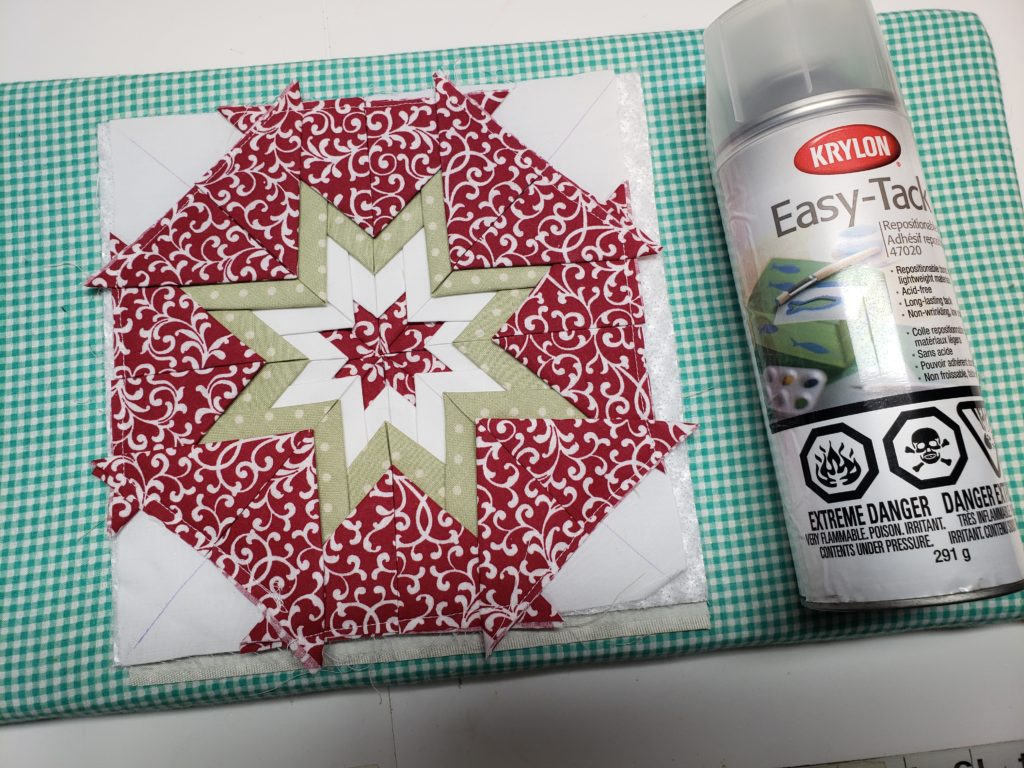 Step 9 – proceed to quilt your piece, i like to sew in the ditch side to side and diagonally from corner to corner. but you can follow the triangles or add your own design, whatever you do will show up on the back of your trivet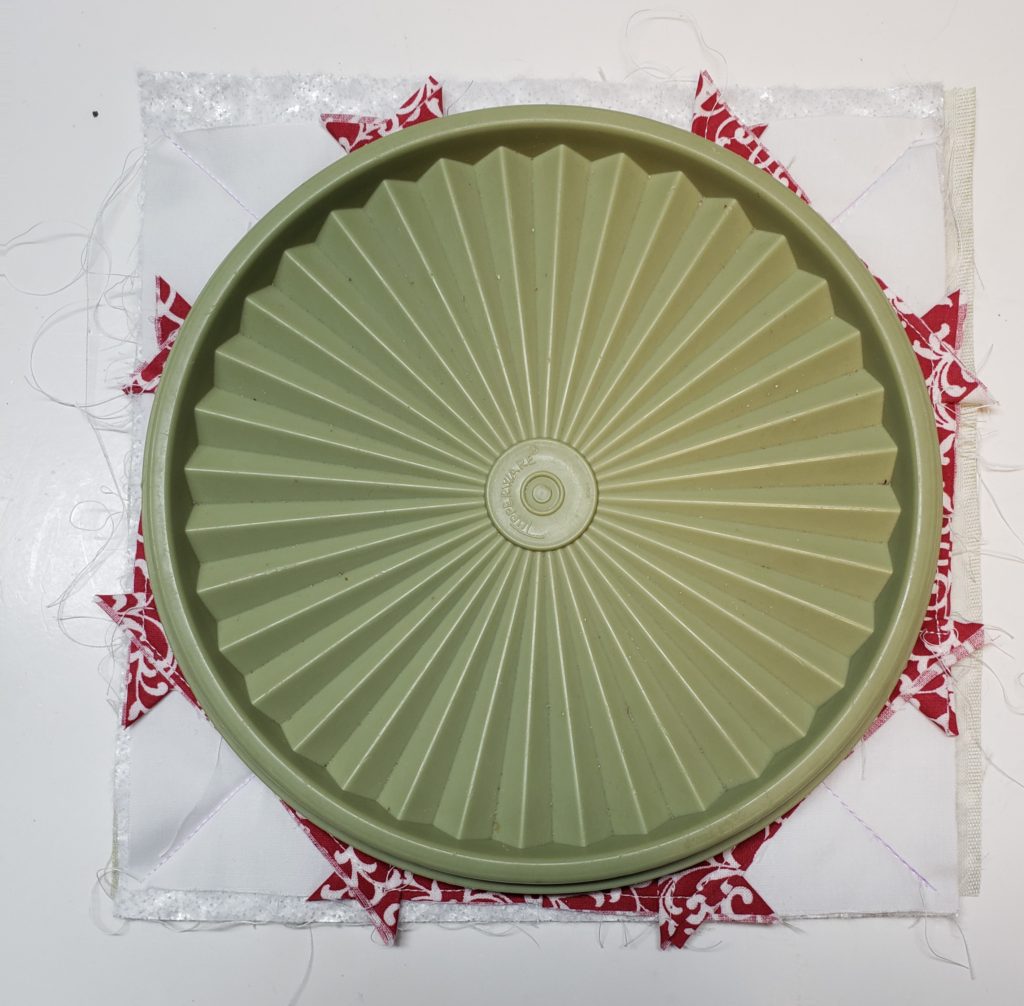 Step 10 – use a circle template to cut out a 7.5″ diametre circle, i have this lid that was  perfect size!!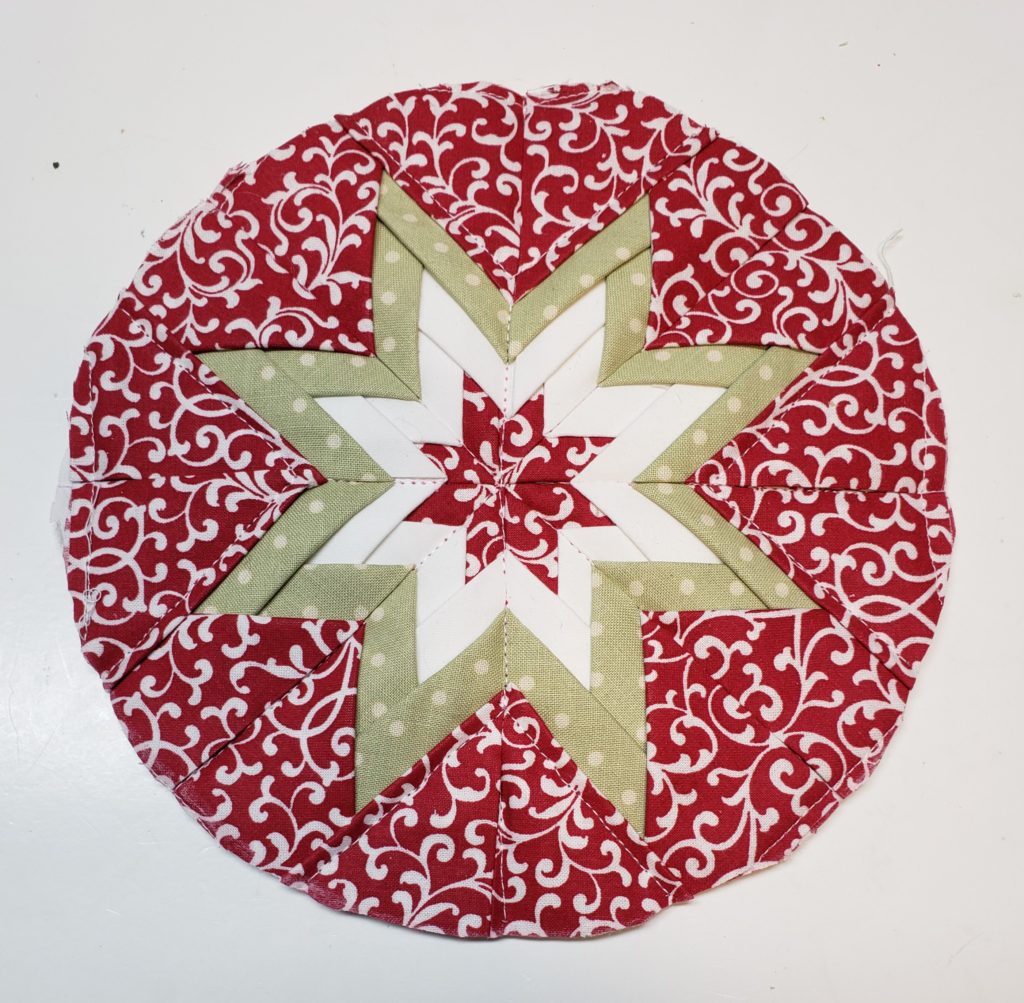 refer to these photos to see the stitching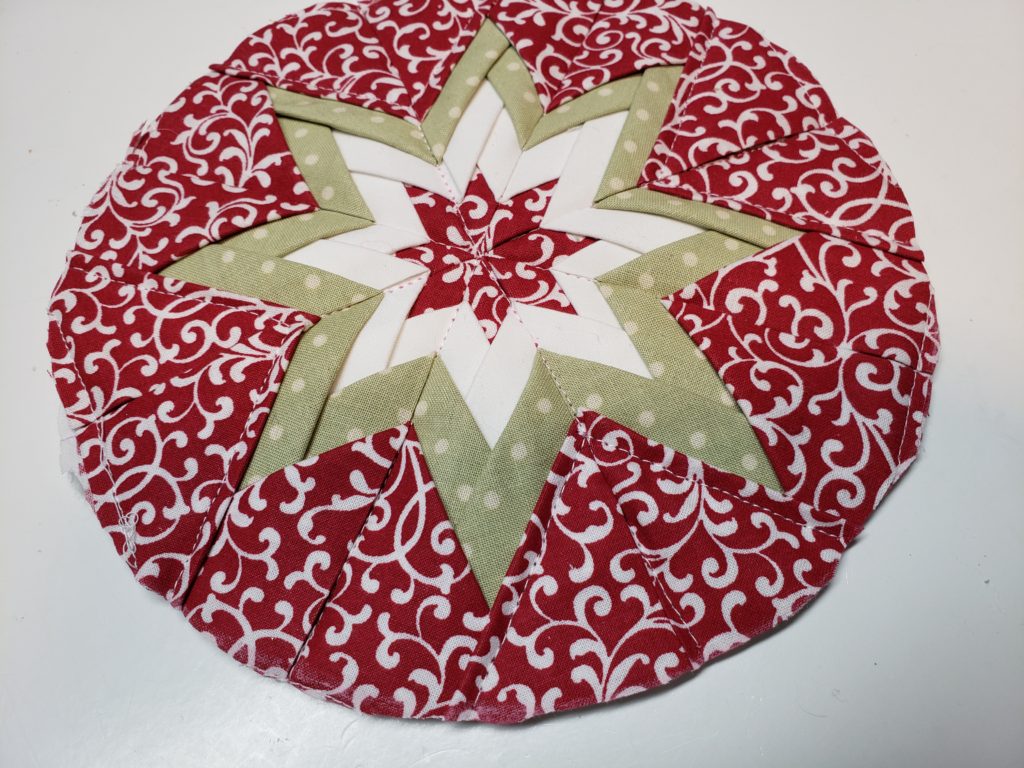 Step 12 – now attach your bias binding in the way you love to do!  and your done 😀
place a loop of bias binding at some point for a little hanging point.