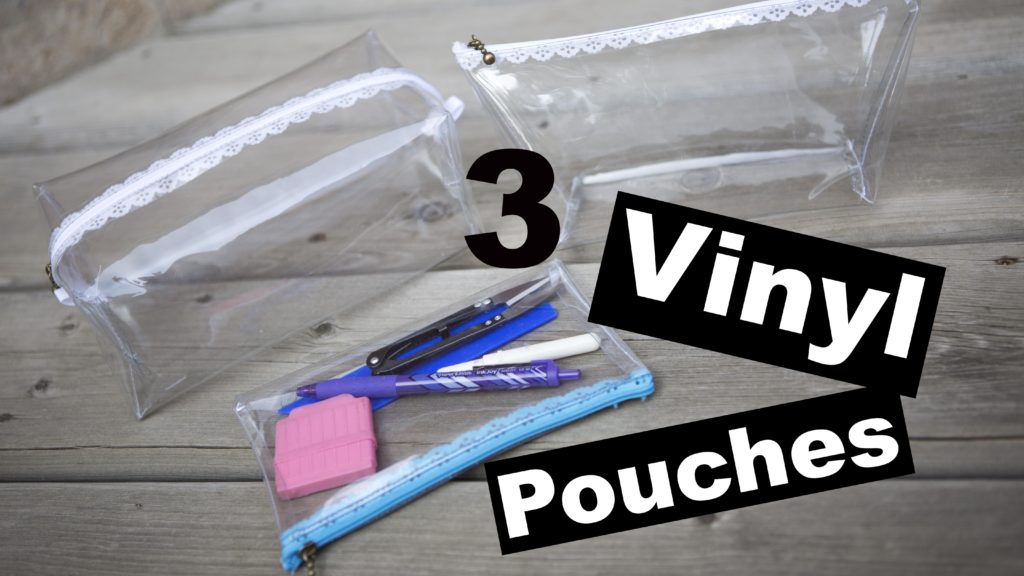 Welcome to the Vinyl zipper pouches tutorial! here you will find how to make 3 different types of vinyl pouches, Video tutorial, Links to products used, measurements, materials and tools!
In this tutorial i will show you how to make 3 different vinyl pouches, a classic flat zipper pouch, Box bottom pouch and a toiletry box pouch.
Materials
Vinyl – Between 8 to 20 Guage vinyl. The higher the numbe the thicker and stronger your vinyl will be.  the Vinyl im using is 16 ounce.
Zipper – Any type of zipper, i am using a lace cut nylon zipper.
Measurements **these are just suggestions you can experiements and create your own size pouches to fit your needs!
Flat Pouch – 10″ x 9″
Box bottom pouch – 10″ x 9 "
Box pouch – 16″ x 12″
Tools I use
Iron – Oliso
Sewing machine – Brother
Ironing Board – Tutorial
Rotary Cutter – Olfa
All these pouches can be made by the same Base, first i will show you how to make the base and then you can take these bases and change them into 1 of 3 pouches!
Step 1 – Place zipper with zipper pull down on top of the vinyl, lining up the edges
And then flip and do a top stitch along the zipper.
Fold up the vinyl to the other side of the zipper, sew along the zipper to install the other half of the zipper.
Open the zipper to help you do a top stitch.
If your having throuble sewing on the vinyl using a Teflon foot will help you glide across the vinyl.
I made 3 of these bases to create the 3 different pouches.
For the first pouch sew up the sides, make sure your zipper is open more then half way. use clips so your pouch stays closed and even and to not add more puncture holes.
Clip off excess zipper, vinyl and threads.
Flip right sides out.
Second pouch
again with the base inside out, sew up the sides.
Clip 1″ x 1″ notches in the bottom corners to create the box pouch.
pinch the corners, line up side seam with centre of the bottom fold.
sew with a quarter inch seam allowance.
Flip bag right sides out.
third pouch
Flatten the base with the zipper centred, sew down both sides. slip zipper tabs inbetween the zipper and the back of the pouch.
cut 1″ x 1″ notches into all 4 corners
pinch the notches lining up the side seam with the centre, sew with 1/4″ seam allowance.
Note* Make sure your zipper is always open more then half way.
Flip right sides out. use a hair dryer to assist if your having a hard time.
Some links are affiliate links