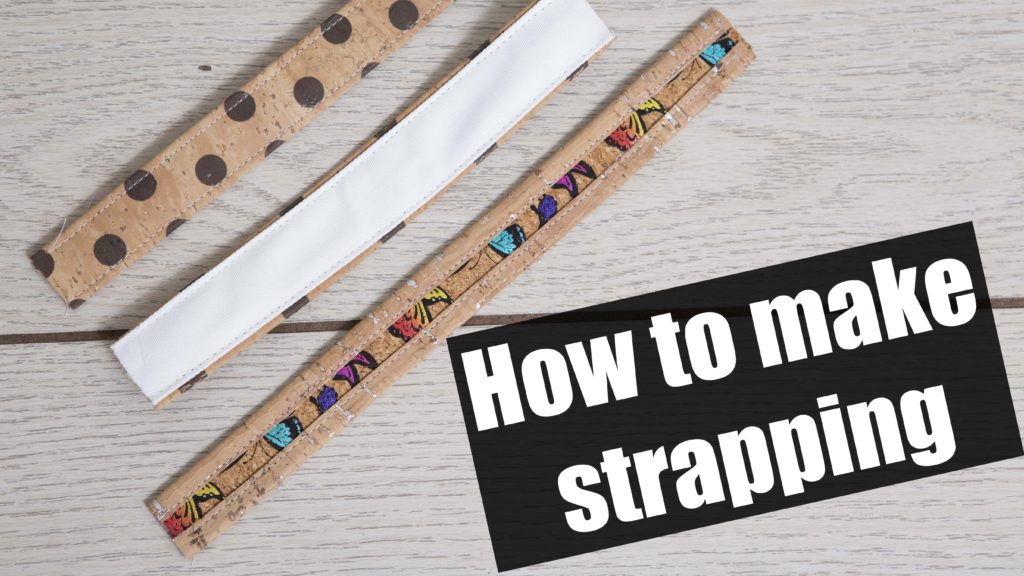 I love this cork fabric! In this tutorial i teach you how to make these three different types of Straps
for a more indepth instructions please refer to the Video tutorial linked  below
All these straps can be applied to cork, leather, vinyl or even Fabric
To make straps you might want to use some double sided tape, fabric glue or even school glue will work (just takes a little longer)
In lay Strap
For this strap i used a natural cork fabric with a strip of butterfly cork fabric
My measurements were 1 1/2″ wide where the inlay measures 1/2″
For this strap i placed tape in the centre to keep the inlane piece in place.
wrap the sides around the butterfly fabric over lapping a little bit (enough so when you sew you can catch the butterfly fabric.
sew down the strap close to the raw edge of the fabric
for the second strap i used a piece that measures 2 1/2″ wide, this gave me a 1″ strap
I use this strap for most of my project and is great when made out of any type of fabric, it hides the raw edges so regular cotton works great for this.
when making it out of cork, leather or vinyl using glue or double sided tape helps alot to keep things in place.
Cork can also be ironed so pressing a cork strap can help keep everything folded
Fold in 1/4″ on the sides, place some double sided  tape and then fold again
Sew down both sides to create your strap
This third strap is a very strong strap, great for a purse or tote that is intended to hold heavier items, it is made out of two layers of fabric and can be made out of leather, vinyl, cork or fabric.
This one is super easy
fabric measures about 1 1/2″ wide, you need two seperate pieces.
fold in the sides 1/4″ on either side, then place both of the fabrics together with the folds on the inside (to hide the raw edges).
Sew down the sides 1/8″ to crete your strap.