Free pattern is at the bottom of this post.
This tutorial is a video tutorial / written tutorial, Here you will find the instructions on how to create the hat, a bow and a bun
To watch the video tutorial click the video below
For this tutorial you will need some sort of stretch fabric, i prefer a soft jersey knit
you also dont need a sewing machine to make this hat and you can just use a needle and thread for the whole project!




cut out the pattern on the fold making sure your stretch it from side to side
Download size Premie to Adult here 

This fabric made it easy to know which way to cut it since the print is directional, but remember in reference to the photo the stretch goes from left to right
Step 1 – Thread your needle! give yourself about 2 feet of thread, i like to double up my thread for extra strength

Step 2 – Now you will take your needle and sew along the curved edge only, the flat edge will be the back of the hat
weave your needle in and out every 1/4″ or 1/2″ until you get to the other side

Now you will pull the thread to cinch up the thread

pull the tread tight and then bring the corners together and secure the corners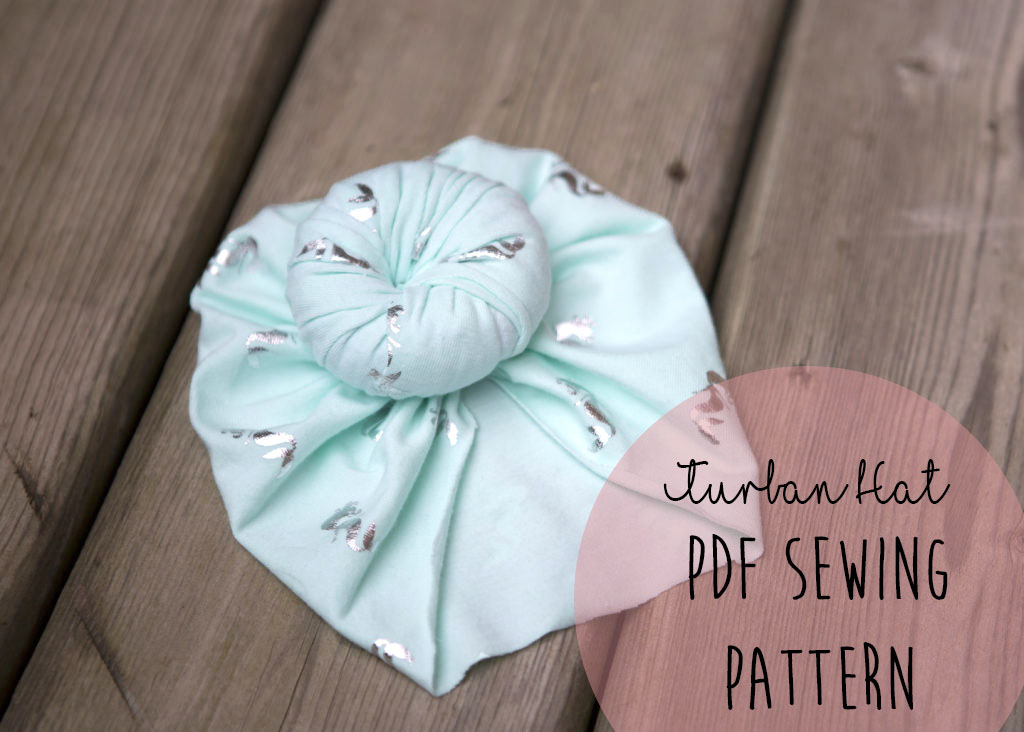 taking your pint create stitches that go from one side to the other, going through the pleats secure it as much as you think it needs to be secured doing this with the hat inside out.
Make the Bow and Bun video below!





If your not putting an accessory on it then you will want to try to hide the raw edges on the inside of the hat by bringing your needle through the front grabbing the pleats and pulling it into the inside of the hat. if not placing a bow or bun on top with cover up any unsightly raw edges

To make the Bun!  i decided to take a little short cut and grab a hair donut and covered it in a long strip of fabric measuring 2″ x 30ish"

i used a large one and actually cut it to make it smaller, you don't really want a hole in the centre that is very visible so if you can get it smaller or find a small hair donut then i would suggest that.
wrap the donut with the fabric all around the donut trying to keep the fabric nice and flat

Secure the fabric to the donut from the underside sewing down the ends, i also sewed the hole closed a little more so you wont see the seam from that hat


to create the Bow
Measure 2 pieces of Fabric
one 6″ x 12″ and 2″ x 3″

Fold each piece in half length ways and sew down the side opposite of the fold

Flip the pieces right side out and fold in half, sew down the raw edge


centre the seams on both pieces and slip the large piece into the smaller piece to form the bow

use a needle and thread to take the two pieces together in the back and secure it to your finished hat