If you have recently dabbled in the world of crafting lately then a sewing machine is a must-have. not only is it great for sewing your own house hold items, garments and things it's great for paper crafting, junk journaling and so much more!  I'm 2022 the selection of sewing machine is endless and can be very overwhelming trying to decide which machine is right for you. To help you figure out which one is right for you I have rounded up some of the best sewing machines as I have about 30 years' experience in the sewing field. Please study these machines and hopefully you can find your next member of your family or fleet as I like to call them.
Related Articles –
Best Rated machine

With almost 20, 000 reviews, this sewing machine was called "This beginner LOVES this machine!"  Hundreds of buyers say it is ideal beginner machine for the enthusiastic sewer. Although i began my sewing journey on an old fashion Kenmore back in the 90's when i finally purchased my first brother sewing machine it turned sewing into a somewhat frustrating hobby into a passionate hobby! This machine took all the little frustrations that an old fashion machine had and refined them to make sewing actually enjoyable!  With the drop in bobbin, the needle lift bottom and speed control. The stitch length and width controls and the easy to turn hand crank. This machine also boasts some of the much used stitches and if you ask me you really don't need much more then these, the automatic button hole and the plethora of feet that come with this machine. Most of the high end machines require you to purchase all the little extras at an additional cost so the fact it is included is a bonus. This machine is def. in my top 5 and for any beginner sewer or young teen this would be a fantastic choice.
AMAZON
Best Heavy Duty Machine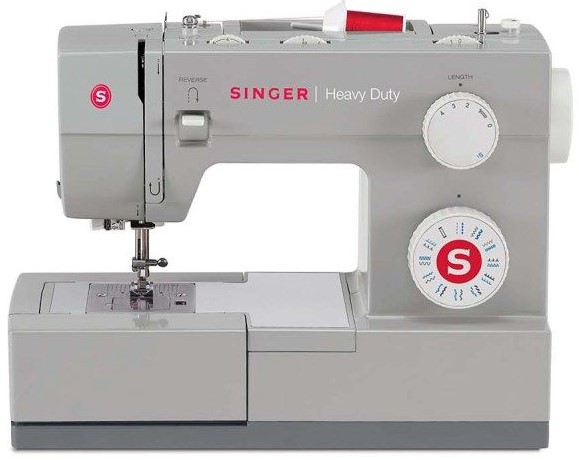 If you are excited about the thought of making your own curtains or cushions then looking into a machine that has a bit more heavy duty capabilities then this Singer 4423 Heavy duty sewing machine is definitely one to check out, without taking a leap into the industrial machines this machine can pack a decent punch when it comes to layers of heavy duty fabrics. I enjoy making items out of Ottertex fabrics such as backpacks and purses; this machine handles these fabrics easily! This machine although doesn't feature an entire catalogue of stitches it does include the important ones, the value in this machine comes from the heavy duty motor that will never quit after 8 hours of straight sewing. It does also come with some great feet options and a table top addition to give yourself a larger workspace. They don't make them like they used too is precisely what this machine is all about. This machine is "how they used too" quality.
AMAZON
Best compact travel machine
If you're not looking to start a new clothing business but need a machine that can be there when you need it for small repairs or hemming curtains then this little compact machine is the perfect addition, reviewers described this machine as " Straightforward, solid, easy to use machine." which is all you really need at the end of the day! Comes with a sturdy handle so you can transport it when you need to and easy to stow away in a closet. This machine sticks to the basics when it comes to stitch selection but at the end of the day those extra stitches are just an accessories that raise the price of the machine and if you're looking for a straight, zigzag and button hole this is perfect for all the jobs!.  This sewing machine is also great for the ambitious teen; it's a small investment so they can try out their hand in sewing and if things don't work out then no harm no foul.
AMAZON
Next step up computerized sewing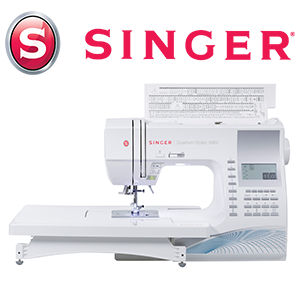 This machine is glorious if you're coming from an old not computerized machine you will never want to look back with the ease of use with this machine, my Mom actually has this machine and i have tested and used it and i just love it! It's so sleek and shiny with a door on the top that hides your thread, displays all the fun stitches and your bobbin winder. With 600 stitch applications you can add special touches to your project such as curly vines, fun shapes, 5 fonts, 13 1 step button holes and so many more; you can spend hour's just experimenting designing with this machine. This sewing machine also features high speed sewing, which is up there with the big guys at 850 stitches per minute! It also comes with a fine selection of feet including the ever so important walking foot! With a quilting table top add on this sewing machine is not short of any accessories and you will not be disappointed.
AMAZON
Best Serger going strong from year to year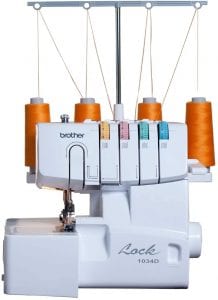 Brother Serger, 1034D
If you're on the hunt for a quality serger then look no further the Brother 1034D is a fan favourite and has been for years. If you have never seen a machine like this before this machine is specifically designed for stretch fabrics, if you're looking to make garments then this is a MUST have. With 4 stitches, 3 different feet options, a blade cutter to finish off the edges of your project and even a little bin to collect all the shavings this machine is adorably with the colourful dials and very user friendly. Inside the front door is a clear diagram to help you easily thread your machine and after you do it a few times you gets the hang of it very quickly.  I love this machine and recommend it to anyone looking for a quality Serger.
AMAZON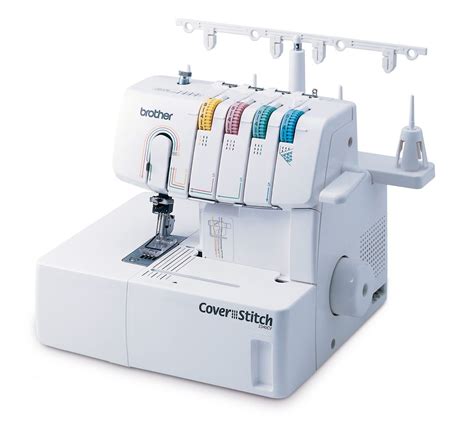 v
Brother Coverstitch Serger, 2340CV
This beauty is my most favourite Coverstitch, i own this lovely lady and use her all the time to hem all my garments, install elastic into bathing suits and undies. top stitching over seams to add a decorative stitch.  If you have never seen a coverstitch before lift the bottom of your shirt hem and check it out, this is what's a cover stitch can do. As with a serger it cuts and finishes your seams but the coverstitch doesn't do cutting so you can create your stretch stitches over your hem raw edges and finish it off at the same time. This adorably colourful machine also displays beautiful next to her sister Serger 1034D.  This machine can be used with 3 or 4 spools of thread and behind the front door you will find a clear colourful display of how to thread the machine and just like the serger once you give it a try a few times it's much easier each time. If you're looking to make your own wardrobe then this will be a must in your fleet of machines!
AMAZON
Most affordable quilting pro machine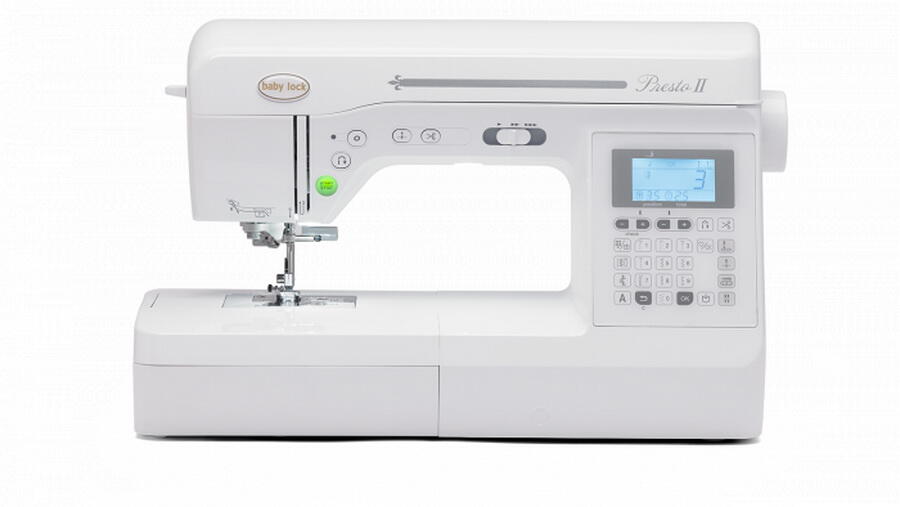 This machine is actually my most recent addition to the fleet! I'm so excited to be upgrading to this glorious machine as i have done so much research on the Babylock line this definitely fit into my sewing. This machine comes with 100 custom stitches and 4 fonts! I'm excited to make custom tags for all my garments with this machine. The computerized dials make it very easy to use and navigate all the features using the LCD screen, This machine also has amazing functions such as the auto threader, and auto cutter which is worth its weight in gold!  This machine is also not short of its accessories and includes all the important ones! I'm excited to use and showcase this machine in my upcoming videos so please subscribe to my youtube to see this in action!
Presto Included Accessories
7 Snap-on feet

Buttonhole
Overcasting
Monogramming
Zipper
Zig zag
Blind stitch
Button fitting

Soft cover case (not shown)
Twin Needle
Needle Set
Screwdrivers
Bobbins (4)
Spool Caps
Seam Ripper
Eyelet Punch
Horizontal Spool Pin
Thread Spool Insert
Spool Net
Lint Brush
Sewingmachinesplus.com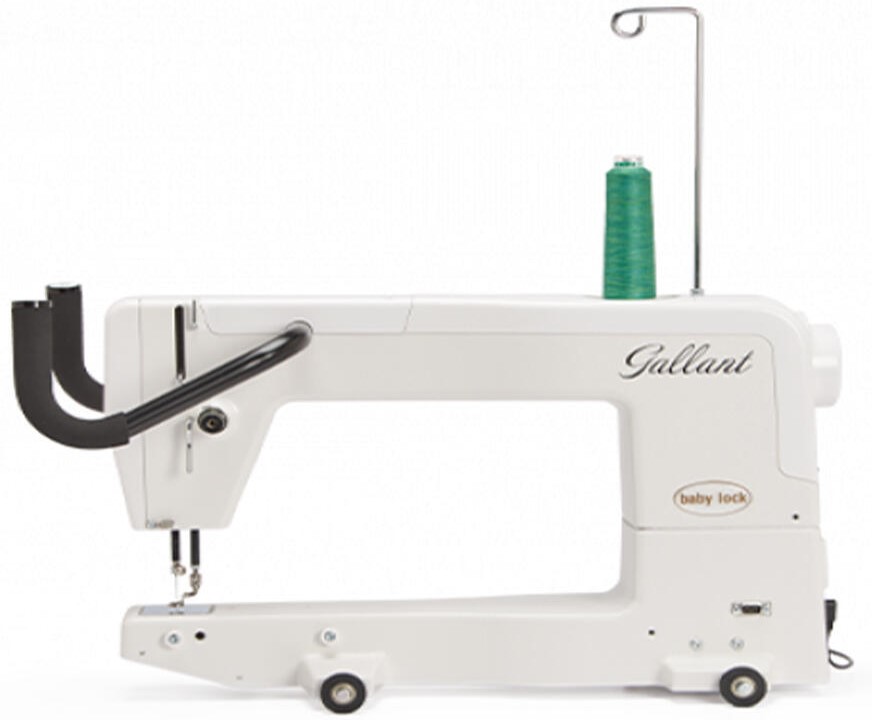 Babylock Gallant Long arm
What is a long arm machine you ask? well…you have your quilt fully assembled, and now you can finish it with the Baby Lock Gallant. Packed full of features, the Gallant is just what you need to complete any quilting project. This machine is used for free motion quilting, free motion quilting is when you remove your feed dogs from the machine and make shapes and swirls. This sewing machine comes with an 8 ft. frame so yes it takes up a good amount of real estate in your house; it's definitely an investment but can be the beginning of a quilting business whether you are making your own quilts to sell or you are quilting other peoples finished. Long arm quilting is a fun and exciting adventure if you love you quilting already and to be able to make designs and patterns with easy instead of trying to jam 3 yards of fabric into the throat of a smaller machine then you will love this in your home.
www.sewingmachinesplus.com
So in short buying a new sewing machine is definitely something that you should take time a research to do to make sure you buy the best machine for the types of project you would like to accomplish. I hope you enjoy this journey and are successful in all the things you plan to do.